In this new weekly blog series, NRM will highlight an issue a customer had and was able to resolve with our industry-leading control and monitoring solutions. Some of the most major refrigeration problems can go undetected and result in equipment failures and/or product loss.
Problem of the Week: Compressor Failed to Respond
Large commercial and industrial refrigeration systems are, despite their mammoth size, routinely most affected by smaller issues. Small, of course, referring to the physical component experiencing the issue (fuses, switches, wiring) and not to their potential negative impact on your business. In most cases, these persistent, hard-to-detect problems can be curtailed before leading to lost product/stock or full system failure if spotted early.
This new blog series, NRM's Problem of the Week, will take a look at real-world situations where unique control and monitoring tools averted disaster for a business.
A mid-sized bakery in Massachusetts had NRM's Remote Site Manager monitoring software installed in the summer of 2016 to have constant visibility in to, and tracking of, their space temperatures. Their facility has multiple holding freezers and temperature zones, so they needed a solution in which they could control and monitor each simultaneously.
On a Sunday night during off-hours in December, their refrigeration technician began receiving alerts to his mobile phone regarding one of the system's compressors. The two alerts warned him of:
Compressor Failed to Respond
Excessive Compressor Starts (40 starts in 02:00:00)
After receiving the alerts, the technician logged into the Remote Site Manager dashboard and pulled up a live look into the compressor's operation.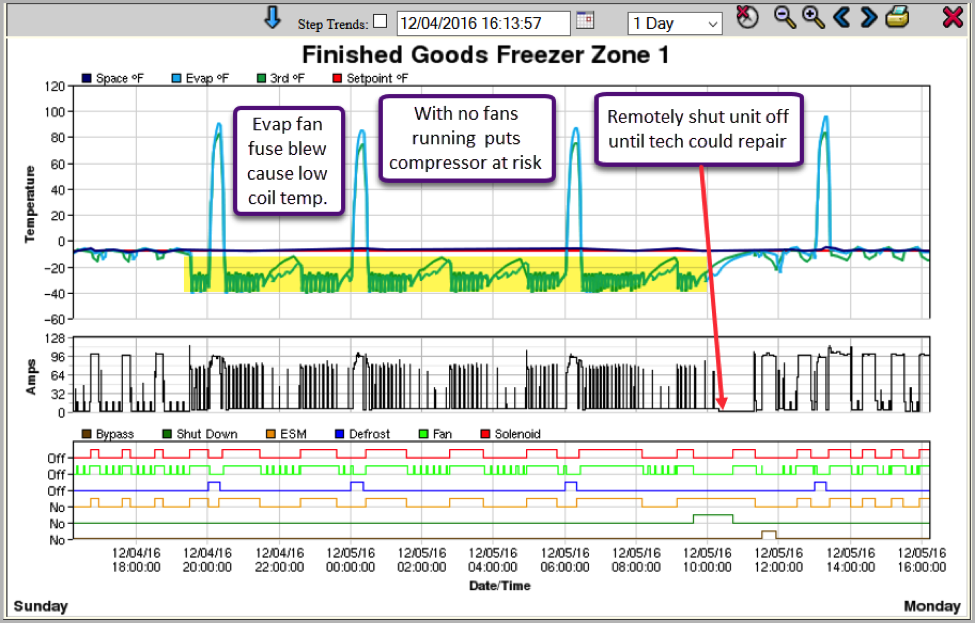 As the performance trend shows, the monitoring software not only pinpointed the precise compressor and zone experiencing the issue, but also exactly when it was having the problem and the effects on temperatures. After consulting the data, it was determined that there were three most likely causes for the compressor to fail: the evaporator fans were either shut off, had failed, or a fuse had blown. The system was shut down remotely to avoid damage to the equipment until the technician could get out to the facility.
State-of-the-art controls and monitoring tools, such as NRM's powerful platform, provide a wealth of information to diagnose problems early, observe historical performance, and have access and control from anywhere, anytime. As part of an overall optimization solution, customers also achieve significant energy savings (an average of 30% saved per system), extended equipment life, and more efficient operation.
On-site, he was able to diagnose that it was, in fact, a blown fuse. He was able to replace the part and the entire issue was resolved within a sixteen-hour window.
It's safe to say that without NRM's monitoring software, this issue could have very likely led to complete failure of the compressor, and then requiring extensive repairs or, worse, replacement. As is the case with most of our clients, this bakery's facility has redundant systems providing cooling in their cold environments. Because of this, staff would have never noticed the continual degradation, and energy waste, of the plagued compressor—there wasn't a noticeable change in the space temperature due to the second system.
Sadly, it's situations exactly like this that "blindside" business owners and facility managers when the equipment fully fails and they lose their entire product.