Learn More About Food Safety
With both a regulatory, and consumer shift toward more stringent food quality and safety requirements, large and small businesses alike are feeling the impact.
Those who are ahead of the curve are reaping the benefits. They deepen current customer relationships, and gain new business from positive word of mouth. Improper storage conditions can lead to contamination or worse. Retailers who demonstrate quality and safety steal margin from those who do not.
Our controls and monitoring solutions achieve better temperature control and predictive diagnostics to prevent product loss while significantly reducing your energy, maintenance, and operating costs, through industry-leading optimization.
From FDA-validated laboratories, to some of the largest and most stringent seafood processing facilities, people who care about quality and precision temperature control, rely on NRM to ensure state-of-the-art efficiency, performance, and critical operation. Our customers are able to prove their adherence to federal regulations such as the FSMA and HACCP, all the while having the peace of mind that our tools have automated the record-keeping process.
Food Safety Modernization Act (FSMA)
"The FDA Food Safety Modernization Act (FSMA) is transforming the nation's food safety system by shifting the focus from responding to foodborne illness to preventing it. Congress enacted FSMA in response to dramatic changes in the global food system and in our understanding of foodborne illness and its consequences, including the realization that preventable foodborne illness is both a significant public health problem and a threat to the economic well-being of the food system.
FDA has finalized seven major rules to implement FSMA, recognizing that ensuring the safety of the food supply is a shared responsibility among many different points in the global supply chain for both human and animal food. The FSMA rules are designed to make clear specific actions that must be taken at each of these points to prevent contamination."
1. Accredited Third-Party Certification
2. Current Good Manufacturing Practice and Hazard Analysis and Risk-Based Preventive Cntrols for Human Food, Food for Animals
3. Foreign Supplier Verification Programs (FSVP)
4. Mitigation Strategies to Protect Food Against Intentional Adulteration
5. Sanitary Transportation of Human and Animal Food
6. Standards for the Growing, Harvesting, Packing, and Holding of Produce for Human Consumption
7. Voluntary Qualified Importer Program (VQIP)
Hazard Analysis Critical Control Point (HACCP)
HACCP is a management system in which food safety is addressed through the analysis and control of biological, chemical, and physical hazards from raw material production, procurement and handling, to manufacturing, distribution and consumption of the finished product. This system has been developed to encompass a swathe of industries from dairy to juice to retail & foodservices to seafood.
"The goal in applying HACCP principles in retail and food service is to have you, the operator, take purposeful actions to ensure safe food. You and your regulatory authority have a common objective in mind – providing safe, quality food to consumers. Your health inspector can help you achieve this common objective, but remember that the ultimate responsibility for food safety at the retail level lies with you and your ability to develop and maintain an effective food safety management system.
Managing food safety should be as fully integrated into your operation as those actions that you might take to open in the morning, ensure a profit, or manage cash flow. By putting in place an active, ongoing system, made up of actions intended to create the desired outcome, you can achieve your goal of improving food safety. The application of the HACCP principles provides one system that can help you accomplish that goal."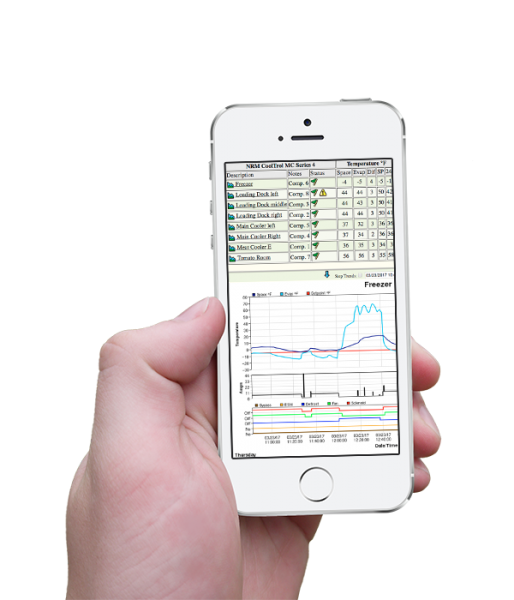 Live

System Monitoring


From Anywhere
Gain the ability to manage and control your refrigeration systems from anywhere you have internet access. Whether you have 1 cold space or 100, you can enhance your oversight and ensure the most optimal performance. 
Within the FDA Food Safety Modernization Act (FSMA), there are clear instructions on how to develop a food safety plan, and also what is required to be in it. In general, you are a covered facility if you are required to register with FDA under section 415 of the Federal Food, Drug, and Cosmetic (FD&C) Act. Covered facilities are required to have and implement a written food safety plan that includes:
Hazard Analysis
Preventive Controls. Facilities have the flexibility to tailor preventive controls to address hazards that occur in the products they manufacture. The preventive controls, which must be written, must be implemented to ensure that any hazards requiring a preventive control will be significantly minimized or prevented and help ensure that the food is not adulterated. The rule includes the following preventive controls:
Process Controls. Procedures that ensure the control parameters are met. Process controls can include operations such as cooking, refrigerating, and acidifying foods. They must include parameters and values (e.g., critical limits), as appropriate to the nature of the applicable control and its role in the facility's food safety system.
Food Allergen Controls: Written procedures the facility must have and implement to control allergen cross-contact and ensure allergens are appropriately listed on the labels of packaged food products.
Sanitation Controls. Procedures, practices, and processes to ensure that the facility is maintained in a sanitary condition to minimize or prevent hazards such as environmental pathogens, hazards from employees handling food, and food allergen hazards.
Other Controls. controls that are not described above but are necessary to ensure that a hazard requiring a preventive control will be significantly minimized or prevented.
Oversight and Management of Preventive Controls. Once a facility has identified a preventive control for a hazard, the facility must make sure that the controls are being met.
Monitoring. Procedures designed to provide assurance that preventive controls are consistently performed. Monitoring is conducted as appropriate to the preventive control. For example, monitoring of a heat process to kill pathogens would include recording temperature values. Monitoring must be documented.
Corrections. These are steps taken, in a timely manner, to identify and correct a minor, isolated problem that occurs during food production.
Corrective Actions. These include actions to identify and correct a problem implementing a preventive control, reduce the likelihood the problem will recur, evaluate affected food for safety, and prevent that food from entering commerce if you cannot ensure that the affected food is not adulterated. Corrective actions must be documented with records.
Verification. These activities are required to ensure that preventive controls are consistently implemented and effective in minimizing hazards. Examples of verification activities include scientifically validating process preventive controls to ensure that the control measure is capable of effectively controlling an identified hazard and calibrating (or checking the accuracy of) process monitoring and verification instruments such as thermometers. Verification activities also include reviewing records to ensure that monitoring and corrective actions (if necessary) are being conducted. Verification activities must be documented. Product testing and environmental monitoring are also possible verification activities, required as appropriate to the food, facility, nature of the preventive control, and the role of that control in the facility's food safety system. Environmental monitoring is required if the contamination of a ready-to-eat food with an environmental pathogen is a hazard the facility identified as requiring a preventive control.
Supply Chain Program
Recall Plan
Bacteria and Refrigerated Foods
There are two completely different families of bacteria: pathogenic bacteria, the kind that cause foodborne illness, and spoilage bacteria, the kind of bacteria that cause foods to deteriorate and develop unpleasant odors, tastes, and textures.
Pathogenic bacteria can grow rapidly in the "Danger Zone," the temperature range between 40 and 140 °F, but they do not generally affect the taste, smell, or appearance of a food. In other words, one cannot tell that a pathogen is present.
Spoilage bacteria can grow at low temperatures, such as in the refrigerator. Eventually they cause food to develop off or bad tastes and smells. Most people would not choose to eat spoiled food, but if they did, they probably would not get sick. It comes down to an issue of quality versus safety:
Food that has been left too long on the counter may be dangerous to eat, but could look fine.
Food that has been stored too long in the refrigerator or freezer may be of lessened quality, but most likely would not make anyone sick. (However, some bacteria such as Listeria monocytogenes thrive at cold temperatures, and if present, will multiply in the refrigerator over time and could cause illness.)
Let's talk about
your project
today