The historically cold temperatures gripping a lot of the country right now are not detrimental only to you, and your home heating bill; they are also increasing the likelihood of an operational issue in air-cooled condensing units.
The use of low pressure refrigeration controls (LPC) is mostly found in smaller, refrigerated boxes such as beer coolers. The temperature of a refrigerated box can be controlled by a low-pressure control (LPC), instead of a thermostat, because of the pressure/temperature relationship in the refrigeration system. By cycling the compressor in response to the suction (low side) pressure, box temperature can be controlled. For this type of control, the condensing unit must be in ambient temperature, higher/warmer than that of box's highest operating temperature.
Thus, when the temperature outside of the box plummets, it can drastically affect this type of system.
LPC systems operating in low ambient temperatures may experience upset as system pressures are not sufficient to close normally adjusted LPC switches.
For example, an air-cooled condensing unit operating in a 40-degree F ambient winter climate using R404a will have LPC's adjusted to approximately 50 to 60 PSIg for the cut-in function.
As winter temps drop substantially, as they have recently on the east coast and in mid-west regions, it's likely that cut-in pressures above 50 PSIg will not activate the compressor control circuit.  As you can see from Table 3 below, cut-in settings may need to be in the 20 to 30 PSIg range in order to activate.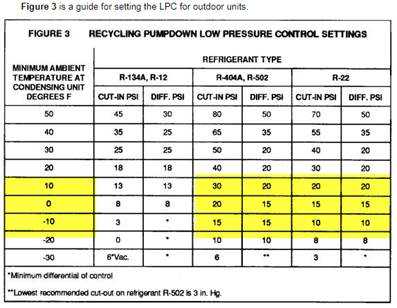 Crankcase oil heaters must also be checked for operation/energization as insufficient oil temperatures can cause pressure and oil level upset, further complicating the compressor's ability to operate if/when energized by the LPC's.
Condensing units specified for low temperature climates should incorporate factory-supplied flood back valves for head pressure control and/or adjustable fan cycling pressure controls (if multiple condenser fans)  Adjustable delay/relay circuits that force minimum compressor operation prior to satisfying pressure controls can also be considered when climatic conditions prevent operation.
An improper refrigerant charge can also exacerbate LPC adjustment and related compressor issues.
Consult a HVAC/R service contractor and/or technician for assistance with this seasonal concern.